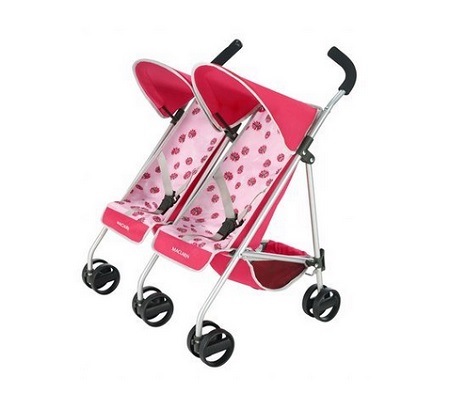 Maclaren Twin Triumph Review
For you who are searching for a stroller to accommodate your twin or your baby and toddler who is not ready to walk, it is worth to consider Maclaren Twin Triumph. This stroller is compact and light so that it will not be burdensome for the parents. In addition, the price will not make you broke. Maclaren Twin Triumph double stroller is an update of the famous Maclaren Rally Twin. This stroller is easy to use because it is featured with the classic Maclaren one-handed umbrella fold mechanism and kick-off brake. In addition, a great improvement is also made on the side-slide brakes which Maclaren strollers had a few years ago.
Maclaren twin stroller is way more affordable compared to another model of Mclaren, Maclaren Twin Tecno stroller. So, it is reasonable that the Twin Triumph stroller has fewer additional features. For example, the stroller does not have head huggers or cosytoes, adjustable leg rests, or a cup holder. But if those features are not a problem to you, then the Twin Triumph is still worth it because it is about 2 Kg lighter. As you know, a double stroller is quite challenging when you need to get it in and out of the car or up and down the stairs. With the Maclaren Twin Triumph, those conditions will not cause a problem.
Pros of Maclaren Twin Triumph Stroller
Maclaren Twin Triumph stroller may not include the fancy features equipped in Maclaren Twin Techno. But this twin stroller is a great value. It has almost all essential features that you need. The twin stroller is ideal for shopping because it easily fits through most doorways. As it is said before, the Twin Triumph is very lightweight. Considering that you push 2 babies at the same time, this should be a great benefit for you. The lightweight also means that you can easily put it in and get it out of the car. The twin stroller has a compact design so that you can store it indoors.
Cons of Maclaren Twin Triumph Stroller
The wheels of Maclaren side by side double stroller are small. They are even smaller than the Twin Techno. So, the stroller is pretty hard to handle on gravel and grass. It does not have wheel suspension as well. It makes the Twin Triumph a little bit bumpy to ride. The shopping basket is not that spacious as well.
Buy Maclaren Twin Triumph !